Hammer Performance
Hammer Performance 883 to 1275 XL Sportster 1986-Present Conversion Kit
Regular price
£797.49
£0.00
INTRODUCING BOLT-ON 1275 Kits from HAMMER PERFORMANCE
For 1986-present 883 & 1200cc Sportsters and Buell - From £797.49
HAMMER PERFORMANCE RAISES THE BAR AGAIN! The world's first and only BOLT-ON 1275 KITS for the XL platform! These kits stand alone as the biggest XL engine kit available that can be installed in an afternoon without case boring and without removing your engine from the frame.

Each kit comes standard with the best components on the market:


Sledge Hammer 3.600 Bore Iron Lined Aluminium Cylinders in Your Choice of 86-03 Small Fin or 04+ Big Fin Styles

Sledge Hammer 3.600 Bore X-Forged Pistons - the Lightest and Strongest in the Business

Lightweight Tool Steel Wrist Pins

Circlips

Premium Quality Moly Faced Rings
Features and Benefits
First on the list is the innovative new cylinder design!
The 120,000psi Tensile Strength Steel Liner Enables a Thin Spigot for a Bigger Bore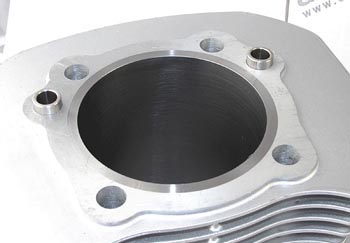 The Working Area of the Liner Remains Thick to Promote a Straight, Round Bore that Doesn't Distort Under the Heat and Pressure of a Running Engine. This Results in Superb Ring Seal.
The 1275 cylinder is based heavily on our legendary 1250 kit, with one key difference: the liner is made of special 120,000 psi tensile strength steel. This extra strong liner material enables a thinner spigot, which in turn enables the bigger bore. The working area of the cylinder remains at a full four inches outside diameter, maintaining the thick, strong cylinder wall. As a result, this cylinder delivers superb ring seal in even the most highly stressed, demanding applications, enabling more power!.

How much more power? One of the great things about the 1275 kit is that it delivers more power over the entire rpm range, unlike a lot of mods that tend to rob from one area to give more somewhere else. Take a look at these actual results:
Here's what a 1275 brings to a late model EFI 883
This motor has stock EFI 883 heads and stock W cams
In blue is a 1275 kit with reverse dome conversion pistons and stage 1 mods (air cleaner, exhaust, tuner)
In red is a 1250 kit with reverse dome conversion pistons and the same stage 1 mods (air cleaner, exhaust, tuner)
In green is the stock XL883
Click here for more information on converting your 883
Also notice the CNC highlighted fins in the below photo!
All black highlighted HAMMER 1275 cylinders, big fin or small fin, receive the CNC machined fin edge treatment. If you're going for the black highlighted look, there's no need to settle for the sanded fin edges found on some competing 1250 kits. HAMMER 1275 cylinders match the factory fin highlighting on 1200 models and maintain your engine's beautiful appearance!

And finally, all HAMMER 1275 kits utilise high-end "X-Forging" pistons that are proven to be the lightest and strongest forged piston design you can buy:
The ribbed design results in a stronger piston with less weight, which results in more power, less vibration, and less wear and tear on the lower end. They also feature extra large valve pockets for those radical cams, anti-detonation grooves, dual wrist pin oilers, expansion grooves for superior ring seal, ribbing to give maximum strength with minimum weight, and of course our exclusive 30 degree reverse dome designs that deliver maximum valve unshrouding and superb detonation resistance. Don't settle for standard forged pistons, get the BEST pistons money can buy for your HD or Buell!.

Depending on the year of your bike, other components are necessary for a successful 1250 or 1275 conversion. Specifically:


All 86-03 models should get a new ignition system that provides a timing curve appropriate for the 1250 kit. However, since this year range has adjustable ignition timing, the new ignition is not strictly necessary. Read this FAQ for a more detailed explanation
All 04-06 models need a new ignition system, to provide a timing curve that's appropriate for the 1250/1275 kit. This year range has no other method for making a timing adjustment and therefore the module is mandatory.
All carbureted models (86-06) need a couple of carb jets, to properly adjust the fuel delivery for the larger displacement
All injected models (07-Up) need a flash type tuner to adjust both timing and fueling
All 04+ 883 models need a new clutch spring at a minimum, however an extra plate clutch pack is recommended to eliminate a common point of failure in the stock clutch
All Sportster models need a colder set of spark plugs than the factory stock 6R12's, to prevent detonation with the higher cylinder pressure that comes with the engine kit. We recommend and offer the HD 10R12X Gold plugs in the table below. These were standard equipment in XR1200 models, and they're a high quality plug with a special tip design that resists fouling and gives a long life.
Fancy trying to fit it yourself? Check out this great install video below. Lets save you some more cash!
Tech Tip: Are you converting an 883? Be sure to read the tech article on conversions for lots of good information to make your project a success!
*SHIPPING CAN TAKE 3-4 WEEKS APPROXIMATELY DEPENDING ON WHAT WE HAVE IN STOCK AS OUR SUPPLIER MAKES THESE TO ORDER*
---
Share this Product
---
More from this collection